Houston Chapter of Credit Unions Battles the Fight Against Hunger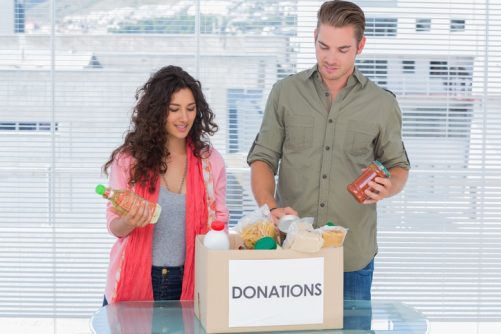 Houston Chapter of Credit Unions Battles the Fight Against Hunger 
Houston, Texas, August 23, 2018 – Fewer Houstonians will go hungry due to the efforts of Houston area credit unions. The Houston Chapter of Credit Unions 2018 Summer Food Drive resulted in a donation of over 3,200 pounds of food for the Houston Food Bank plus a monetary donation to boot. 
With children out of school and the continued impact from Hurricane Harvey, the food bank is in high demand to replenish inventories. Food levels generally run low during the summer and until the holiday food drives. 
This year's food drive started on July 23rd and wrapped up at the Houston Chapter of Credit Unions Business Partner Expo on Tuesday, August 21st. Collection sites were provided by Cy-Fair FCU, Houston Texas Firefighters FCU and Members Trust CU. The donations were delivered to Houston Food Bank by a group of volunteers on August 22nd. Valarie Prillman, VP HR at Cy-Fair FCU, explained "the Houston Food Bank was very thankful for the amount of food and monetary donations provided by Houston area credit unions." She also said "we are thankful to Enterprise Car Sales for picking up the food and delivering to the Houston Food Bank". 
The Summer Food Drive is one of many efforts in which the Chapter supports the community and enhances the quality of life in the Greater Houston Area. The Houston Chapter of Credit Unions provides a collaborative environment for credit union professionals and volunteers to receive education, leadership development, and grow credit union community influence. The Houston Chapter is comprised of approximately 100 credit unions in the Houston metropolitan area. For additional information about the Houston Chapter of Credit Unions, visit www.HoustonChapter.com. To learn more about credit unions or to locate one in the Houston area, visit www.HoustonCreditUnions.org.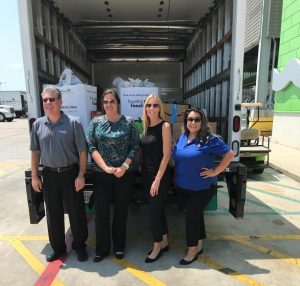 Brian Ellis – Texas Bay CU
Gina Harris – Enterprise Car Sales
Valarie Prillman – Cy-Fair FCU
Veronica Guardiola – Texas Bay CU