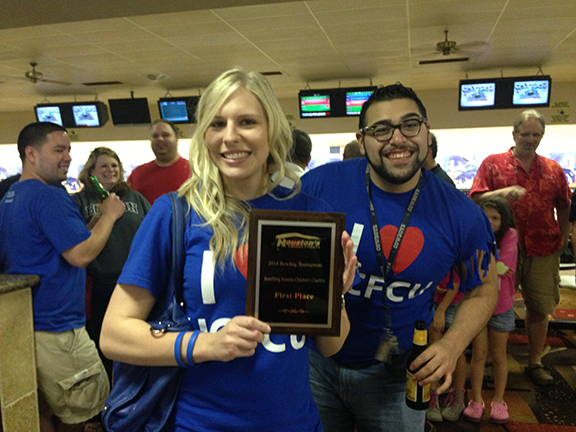 Houston, Texas, March 24, 2014 – The Houston Chapter of Credit Unions continues to raise funds for children's charities. On Saturday, March 22, 2014, eighteen (18) credit unions and business partners participated in the Chapter's annual Bowling Tournament at Copperfield Bowl  in Houston, TX. Participants in the event raised over $6,000 for children's charities.
The tournament winners were:
• 1st Place – Harris County FCU
• 2nd Place – First Service CU (Team 1)
• 3rd Place – Texas Bay Area CU
• Gutter Champ – Janet Carreon (Space City CU)
Lori Cooke, Marketing Director at Houston Texas Fire Fighters FCU and event organizer said "this is a great start to the year for charitable efforts and it's all thanks to our wonderful credit unions and generous sponsors who were able to make it all happen!" All participants enjoyed the tournament knowing the funds support children in need.
The Bowling Tournament is one of many efforts the Chapter supports the community and enhances the quality of life in the Greater Houston Area. The Houston Chapter of Credit Unions provides a collaborative environment for credit union professionals and volunteers to receive education, leadership development, and grow credit union community influence. The Houston Chapter is comprised of over 100 credit unions in the Houston metropolitan area.
For additional information about the Houston Chapter of Credit Unions, visit www.HoustonChapter.com. To learn more about credit unions or to locate one in the Houston area, visit www.HoustonCreditUnions.org.
Contact: Malcolm Rene
Board Member, Houston Chapter of Credit Unions
Executive Vice President & CFO, United Community Credit Union
713.674.5778 | mrene@unitedccu.com
HoustonCreditUnions.org