Houston Chapter Annual Cake Auction Raises over $13,000 for PAC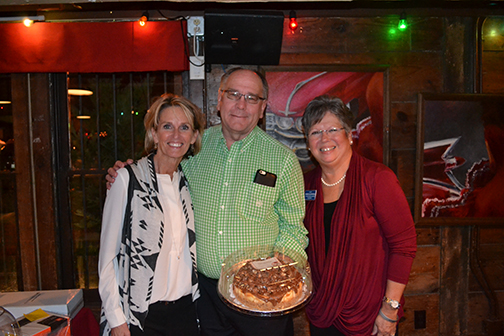 Houston, Texas, October 22, 2015– The Houston Chapter of Credit Unions know the recipe for raising money for their Political Action Committee; have a cake auction! The Houston Chapter recently held its annual cake auction on October 20th, 2015 to benefit TCCUL PAC, and total dollars raised came to $13,050.00- an amount which surpassed last year's proceeds by more than $3,000. More than 30 cakes, pies, and cookies were donated to the event by credit unions and local business partners. A single cheesecake from retired Cy-Fair Credit Union CEO Debbie Blackshear, whose cheesecakes are famous statewide, sold for $5,000.
Cornerstone Credit Union League officers Mike Delker and Gretchen Ziegler also attended the event. "The Houston chapter has consistently shown their commitment and support of TCCUL PAC through events such as this and the ever-popular World's Finest Candy sales, our thanks and gratitude goes out to all who participated in such a fun and successful evening," said Ziegler.
The Annual Cake Auction is one of many efforts the Houston Chapter of Credit Union supports the community and enhances the quality of life in the Greater Houston Area. The Houston Chapter of Credit Union provides a collaborative environment for credit union professionals and volunteers to received education, leadership development, and grow credit union community influence. The Houston Chapter is comprised of over 100 credit unions in the Houston metropolitan area.