Event details
Saturday | October 3, 2015
8:00 am
Houston Sportsplex | 12631 South Main St. | Houston, TX 77035
713-799-6250
Houston Chapter Of Credit Unions Annual Softball Tournament
Saturday, October 3, 2015
Houston Sportsplex
12631 South Main St.
Houston, TX 77035
713-726-9977
Registration Deadline Extended to September 19, 2015
It's time for the Credit Union Charities Annual Softball Tournament – brought to you by the Houston Chapter of Credit Unions!
The first round begins at 8:00 a.m., and you won't want to miss it! Get your co-workers together for a Saturday of friendly competition and fun. All of the proceeds from this tournament benefit the various local charities supported by the Houston Chapter of Credit Unions.
The tournament is limited to the first 20 teams to sign up, so reserve your spot TODAY!
The coaches meeting will be held on Thursday, September 24th at the Houston Sportsplex at 11:45 a.m.  At this meeting:
*Team captains, or other representatives will draw their first round competitors. If no person is there to represent the team, your competitor will be drawn on your behalf.
*Meal Tickets and Gate Passes will be distributed based on information and payment you provided on the registration form to minimize delays entering the field on game day. If you paid for a Hero or Team Sponsor package, you will still have complete and submit payment for the Meal Tickets and Gate Passes portion at the bottom of the registration form.
*All balls used at the Sportsplex must be purchased there. Team captains/representatives may want to bring extra cash accordingly.
A couple additional reminders:
*Familiarize yourself with the rules
*Teams must start and end the tournament with the same roster
*You cannot bring your own food and beverages. If you have special dietary needs, make sure you indicate such on the space provided on the registration form.
*HAVE FUN!!!!
Please click here to download the registration form.
If you have any questions or concerns, contact T. Scott Kreinbring at (713)799-6250 – office, (281) 798-1405 – mobile or skreinbring@primewayfcu.com
_____________________________________________________________________________________________________________________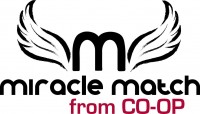 Great news! The Chapter's application for a match by CO-OP Financial Services Miracle Match was APPROVED! So they will match the total amount raised from this event up to $10,000. Let's make this fundraiser a success!