Event details
Thursday | March 24, 2022
5:30 pm
First Service Credit Union 16430 Park Ten Place Houston, TX 77084
The Houston Chapter of Credit Unions presents:
Featuring: Honorable Rodney Hood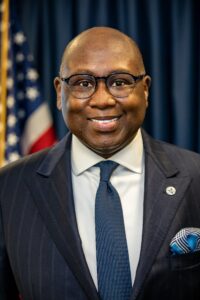 When: March 24, 2022
5:30 pm: Social Hour
6:00 pm: Speaker
Where: First Service Credit Union
16430 Park Ten Place
Houston, TX 77084
More about our speaker:
President Donald J. Trump nominated Rodney E. Hood for the NCUA Board on January 19, 2019. The U.S. Senate confirmed him on March 14, 2019, and he was sworn in as the eleventh NCUA Chairman on April 8, 2019. Mr. Hood served as the NCUA's Chairman until January 25, 2021.
As a Board Member, Mr. Hood serves as the NCUA's representative on the Board of Directors of NeighborWorks America, one of the nation's leading affordable housing and community development organizations. This is his second time serving as the agency's representative on the board of NeighborWorks.
Mr. Hood was previously nominated to the NCUA Board by former President George W. Bush and served from November 2005 until August 2009. During his first term on the Board, he was appointed Vice Chairman.
Immediately prior to rejoining the NCUA Board in 2019, Mr. Hood served as a corporate responsibility manager for JPMorgan Chase, managing national partnerships with non-profit organizations, financial regulators, and community stakeholders to promote financial inclusion and shared prosperity in underserved communities throughout the United States.
His previous experience includes serving as associate administrator of the Rural Housing Service at the U.S. Department of Agriculture. In this role, he helped to address the housing needs in rural communities and administered the agency's $43 billion mortgage portfolio.
Prior to his public service, Mr. Hood served as marketing director and group sales manager for the North Carolina Mutual Life Insurance Company in Durham, North Carolina. He also served as national director of the Emerging Markets Group for Wells Fargo Home Mortgage and served on the board of the Wells Fargo Housing Foundation. Earlier in his career, he worked for Bank of America as a Community Reinvestment Act officer and completed the management development program at G.E. Capital.
In addition to his public and private sector service, Mr. Hood served as a member of the University of North Carolina at Chapel Hill Board of Visitors and as member of the UNC School of Arts Board of Trustees. He also served as a member of the Board of Trustees for the North Carolina Museum of Art and as a member of the Board of Governors for the University of North Carolina College System.
Mr. Hood's professional awards include being named one of the "40 Young Leaders Under the Age of 40" by the Triangle Business Journal in Raleigh, North Carolina. He is the first recipient of the "Dream Award," an award given by the Wells Fargo Housing Foundation to honor individuals who have exhibited an outstanding commitment to affordable housing.
A native of Charlotte, North Carolina, Mr. Hood holds a bachelor's degree in business, communications, and political science from the University of North Carolina at Chapel Hill.
Don't miss out on this exciting event!
Register today because space is limited!