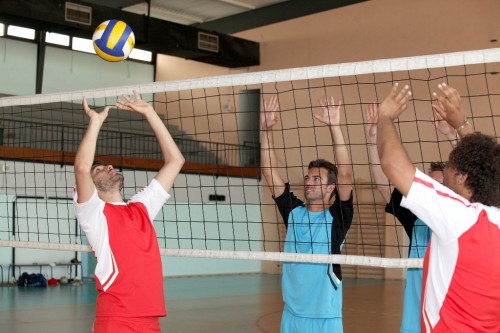 Event details
Saturday | August 22, 2015
9:00 am
Willowbrook Sports Complex
713-293-6632
It's time once again to put on those knee pads and practice your bumps, sets, and spikes!
The 2015 Houston Chapter of Credit Unions Volleyball Tournament is being held at Willowbrook Sports Complex on Saturday, August 22, 2015, from 9:00 a.m. until 2:00 p.m.  This is not a double elimination tournament.  Each team will play multiple games throughout the day.  Teams can have four to nine players, with no more than six players on the court at any given time.  The number of male players on the court at any given time may not exceed the number of female players.  Registration fees are based on Credit Union asset size and include lunch for each player.  Space is limited, so sign up early!
For those who participated in the 2014 event, the rules and format are basically the same.  Details regarding any changes will be announced by August 19th.  For those who did not participate last year, now is the perfect time to get your team together and experience the fun and friendly competition that the participating credit union teams look forward to every year!
***NOTE: CHANGE IN EVENT ORGANIZER***
So, how do you register your team?  Just mail the registration form with your check, made payable to the Houston Chapter of Credit Unions, to Houston Texas Fire Fighters FCU, Attn: Lori Cooke, PO Box 70009, Houston, TX 77270.  The deadline to register your team is August 19, 2015.  Registration confirmations, tournament rules, game day schedule, and other pertinent information will be sent the week of August 19, 2015.
**Maximum of two teams per Credit Union
**Additional meal tickets can be purchased for family and friends
For additional information, please contact Lori Cooke at (713) 293-6632 or loric@htfffcu.org (fax: (713) 293-6659)