Hero Sponsorships and Team Packages help the Chapter raise funds for Houston Children's Charities. For more information on Hero Sponsorships or Team Packages, please contact Julirey Velasquez at 713-864-0959 ext. 6631 or julireyv@htfffcu.org.
With the new year comes new sponsorship opportunities to the Houston Children's Charities. We would appreciate your support!
Consider being a 2019 Hero Sponsor!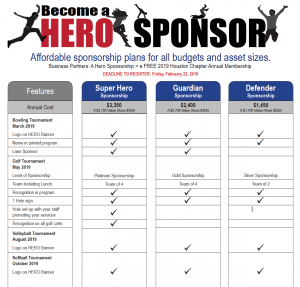 Click here to download the sponsorship registration form and to choose your level of sponsorship. Attention Business Partners: just as a reminder, the Chapter will waive your membership fee of $100 just by becoming a Hero Sponsor!
Want to enter a team for each Chapter Sporting Event? Save 15%! Consider purchasing a Team Package and your company/credit union will be guaranteed in the Chapter's annual events such as bowling, volleyball and softball. Cost is a flat $1,360 for both credit unions and business partners. Click here to register.
By contributing towards the Houston Children's Charities you can help Houston's children immeasurably, receive free advertising and promotion for your credit union/company and feel good about it all!
Please respond before February 22, 2019 if you're interested in becoming a 2019 Hero Sponsor and to purchase a Team Package.
Questions or need further information? Please feel free to contact Julirey Velasquez with Houston Texas Fire Fighters Federal Credit Union at (713) 293-6631 or julireyv@htfffcu.org.