Event details
Tuesday | January 23, 2018
5:30 pm
Hobby DoubleTree 8181 Airport Blvd, Houston, TX 77061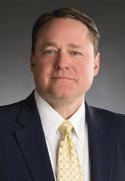 Join us for our January chapter meeting!
Dan Berger, CEO NAFCU, will be our speaker for the evening. The meeting will be held at the Hobby Doubletree on January 23, 2018.
Learn more about our speaker:
B. Dan Berger became NAFCU president and CEO on Aug. 1, 2013. He was promoted to executive vice president of government affairs in July 2009 after joining NAFCU in January 2006 as senior vice president of government affairs overseeing five divisions including legislative affairs, regulatory affairs, research/economics, regulatory compliance and political affairs/PAC. Berger is NAFCU's chief advocate before Congress, the White House and the federal regulatory agencies.
Berger brings more than 25 years of government relations and political affairs experience to his post and has held key association and business management positions. In addition, he served as chief of staff in the U.S. House of Representatives.
Click here to register. We look forward to seeing you!